In this hyper-marketing era, a convincing piece of writing is all you need to establish your authority. It is equally essential for business owners to empower their prospects and keep them coming repeatedly. Also known as blogging, it is a practice to impact the organic popularity of a brand positively.
Hubspot reveals that marketers who prioritize blogging are 13 times more likely to witness a positive return-on-investments. However, getting more people to read your blog is an art and science combined. If the lack of readership pushes you to smash the domain and pursue without it, don't give up just yet!
Perhaps, this post is what you need to breathe a new life or kickstart your blog. Following are X proven strategies to boost readership and increase your web traffic:
Tactic # 1: Be Strategic About Your Content
There is a solid reason why they say content is king. If the king is lousy and ineffective, the entire kingdom crumbles apart. But if the king is powerful and progressive, no force can stop the empire from ruling far and wide.
The path for content marketers is simple – if you want to boost SEO rankings and gain website traffic, you must offer excellent content to your audience. Being strategic about content means you have to stay a step ahead of the market.
Think about your audience and their preferences. What do they need at this point? Are they stuck in a fuzz? Help them escape!
The first step in this route is to write irresistible headlines. For instance, the writers at UpWorthy and Buzzfeed write twenty different headlines before finalizing the one that will drive the most traffic. Needless to say that they are spending a lot of time writing headlines, and ample research proves why it's essential.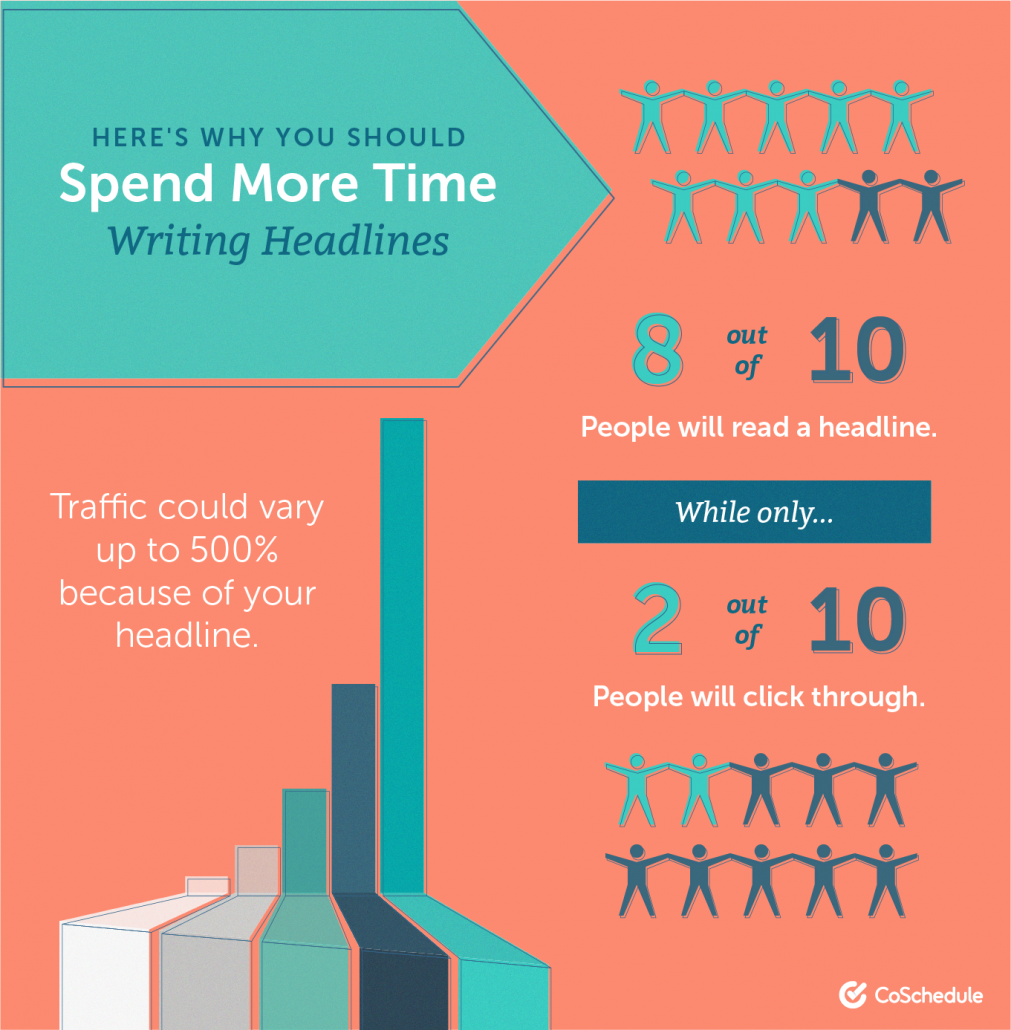 As per Harp Interactive, headlines account for 50% of your blog posts' effectiveness. If you have mind-blowing content behind a shabby headline, it will die an instant death.
Therefore, appearances are everything.
When it comes to impressing readers, shoot for statistics, rich storytelling, and captivating infographics. Craft stuff people want to link to and share. Make it scannable so people can pick up the juicy bits quickly.
Tactic # 2: Pay Attention to On-page SEO
On-page SEO is the strategy of optimizing web content for users and search engines. People often feel uncertain when it comes to infusing SEO in blogs. But remember – Search Engine Optimization is wondrous when done right!
It gets you the right traffic from Google; they find the answers at your portal, and voila – they become your loyal followers. According to Internet Live Statistics, Google has received around 2.3 trillion searches this year. Prioritizing on-page SEO is your way to stay atop the grid.
Besides publishing relevant, high-quality content, on-page SEO involves optimizing your headlines, HTML tags (Meta, title, and header), and images. It also involves ensuring your website has a high level of authoritativeness, expertise, and trustworthiness.
Content Marketing Institute reports that 57% of marketing executives say on-page content development was the most effective SEO tactic. It goes beyond providing rich information and keywords. This is the reason why the average length of ranking content is getting longer each year.
Tactic # 3: Target Long-tail Keywords
As per Smart Insights, long-tail keywords have a click-through rate of 3% to 5% higher than generic searches. Most searchers out there are seeking four words or longer. In other words, they are looking for specifics.
For instance, if you run a nutritional food chain, you might think you'd climb the grid using the keyword "healthy food." FYI, there is a slim chance of that happening because "healthy food" is a pretty competitive term. On the contrary, if you use "healthy food on a budget," your chance of ranking goes up a notch.
While working on it, be aware of keyword cannibalization. Targeting a specific term across multiple blog posts can cause keyword cannibalization, leading to some disastrous consequences for your SEO. Here are the steps to take when searching for long-tail keywords:
1.Type in a phrase of your liking and see what Google's autocompleting suggestions are


2. Enter a few of those terms into Google and scratch down some search suggestions by Google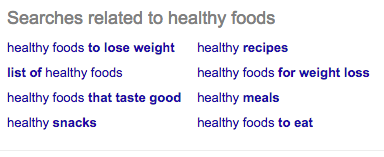 3. Now, take all the long-tail phrases and put them in the Google Keyword Planner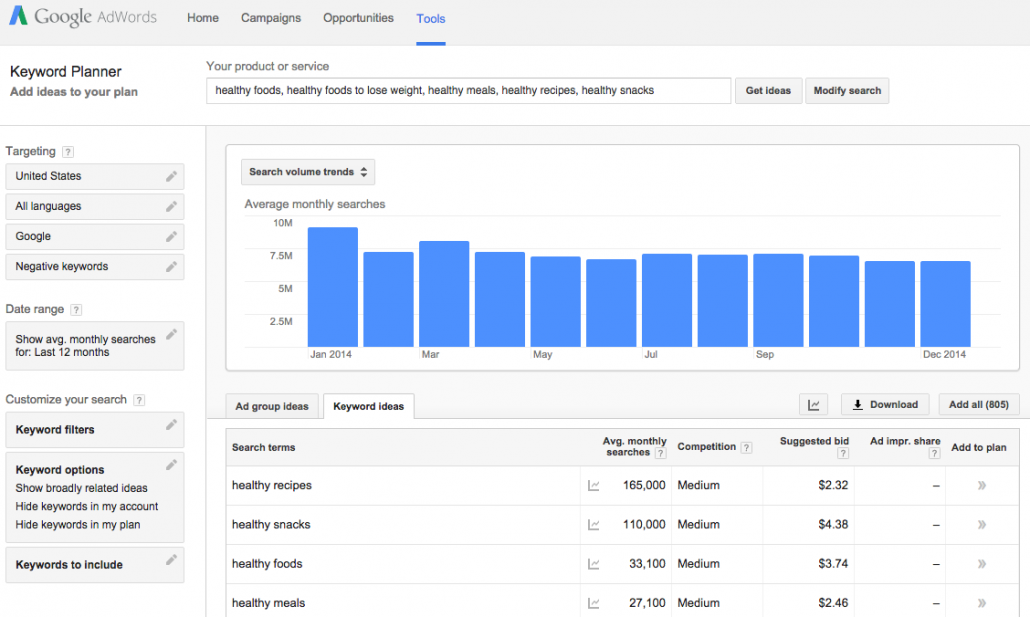 Check the phrases that drive the most traffic. Siphon out the ones with low competition and high search volume. Those are your silver-bullets to saturate traffic on your website. Try to create content around those keywords.
Tactic # 4: Get Social
You can't expect people to find you in the digital forest merely by posting blogs on your website. It is vital to put the word out there. One of the best ways to increase traffic on your portal is to use social media channels for promoting content.
According to Buffer (2019), 73% of marketers believe social media marketing has been somewhat useful or very useful for their business. If you want to reap the same rewards, take some time to devise a cross-channel marketing approach.
Twitter is perfect for short and snappy links. Google+ promotion will show your site in personalized search results, which is quite fruitful in B2B niches. And if you are a B2C product company, you may earn excellent traction with image-oriented platforms like Instagram and Google.
You can use plugins or create primary links like this one on Hubspot: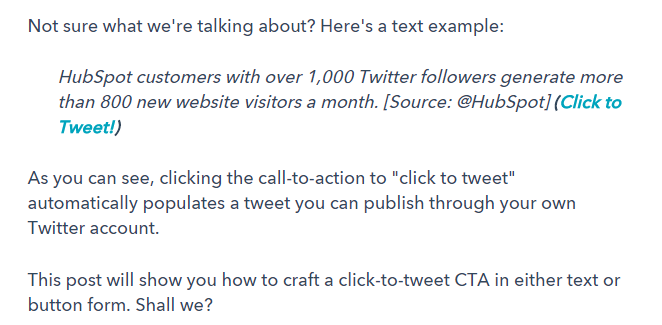 Or you can integrate a social media sharing option on the blog post. Below are some quick general rules to follow when it comes to social media button placement:
Don't position the buttons too close to the navigation
Place buttons close to the content
Keep buttons visible
Tactic # 5: Start Guest Blogging
Yet another gold nugget you can't ignore!
Guest blogging is one of the most acclaimed inbound marketing strategies. It helps you get traffic, put yourself in front of your prospects, and cost-effectively boost SEO ranking. Plus, it lets you establish your credibility and authority by providing a valuable article and appearing on a reputable website. Seeing your useful insights, people will pop into your original website.
Hubspot believes inbound marketing strategies don't just drive traffic to your site, but they also increase your revenue. Given how you get more backlinks via guest posts, it automatically takes you to the top ranks.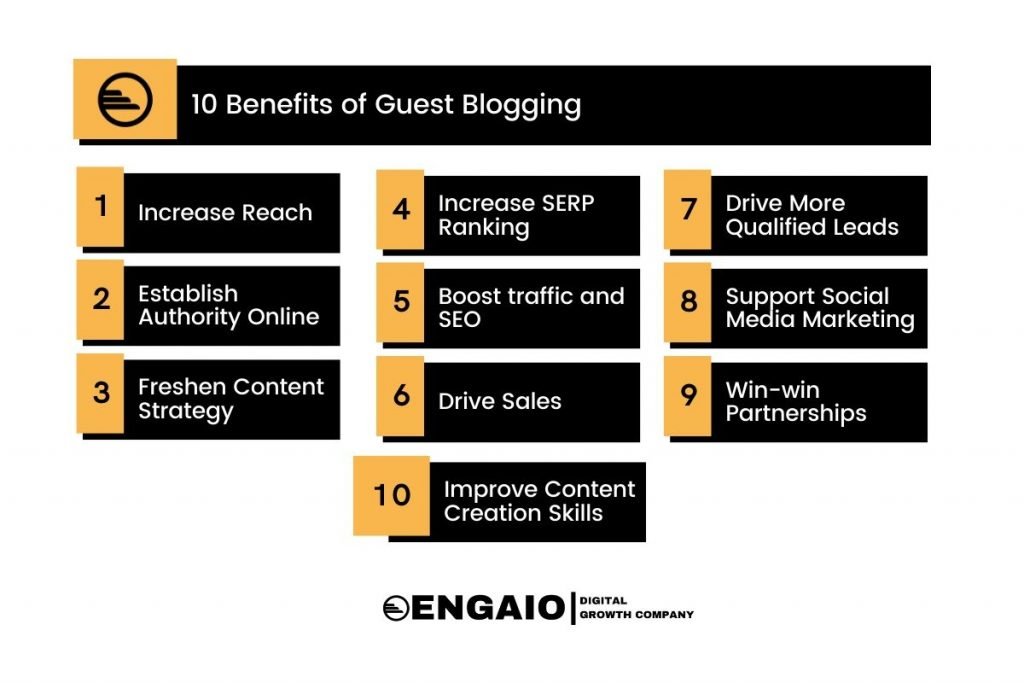 Keep in mind – guest blogging is not the short cut to boost your site traffic. It asks for a lot of homework, such as:
Determine who your customers are
Determine where to find the target market
Write Great Content
Build Relationships and Network
Pitch, Test, Analyze, Repeat
Securing a guest post on a reputable blogging platform can, thus, build your brand into a bargain and increase traffic on your entire web portal. There are some outstanding examples in this regard. Gregory Ciotti used guest blogging to add 36,733 more qualified subscribers to his email list.
Be warned, though – standards of guest blogging have radically changed over the past year. Spammy tactics could lead to devastating results on your traffic, leading to penalties. So, take every step with caution.
Tactic # 6: Link Internally
Internal links are hyperlinks meant to carry users to another page of your website. This is one of the tried and tested SEO tricks.
Including links in your blog posts is essential for the same reason that you use to cite your sources in a bibliography when writing a school paper. It shows that your information is credible, built on research and knowledge. The deeper within your blog, an internal link resides, the more valuable it is as the reader will be unlikely to find it on their own. Some ways you can do it are:
Link to a different post on your blog, or the "About Us," "Home," or "Services."
Link to the landing page of a specific product. For example, you might want to direct your readers to the e-book launched by your company if it relates to the information covered in the blog.
Aira states that 92% of marketers think internal links will be the ranking criteria within five years.
Note, your link profile's strength isn't solely dependent on the number of links you have in a single post. It is also under the influence of the structure it follows. This helps with SEO and results in better, enriched experiences for the users.
Let's Wrap it Up!
Outstanding blogs on your website are imperative to excel in the market. The wonderful thing about blogs is, the traffic keeps coming. You can write something today, and a few years down the lane, people may still stumble to your posts when they're looking for similar content.
All you need is to get those creative juices flowing up the virtual stream. Stay tuned for more advice on creating excellent blogs.
https://www.inetsolutions.org/wp-content/uploads/2020/12/content-marketing-5509584_1920.png
1280
1920
Roger Sterling
https://www.inetsolutions.org/wp-content/uploads/2015/07/Inet-Solutions-Symbol-Plain18-80x80.png
Roger Sterling
2020-12-14 13:55:00
2022-01-22 15:13:59
How to grow your web traffic with a blog?