I know what you are thinking right now. "Why the hell would I advertise on Bing? Nobody uses that search engine." But, in reality, you could not be more wrong. As of March this year, Bing has crossed the 20% mark meaning that nowadays, more than 1/5 of the searches are performed on Microsoft's search engine. And when we talk just about the United States, the number goes up to about 33% since Microsoft serves Bing results on Yahoo sites. Doesn't seem so bad now does it?
Okay, to the point. I'm sure that if you've been into the affiliate marketing world recently, you know that Google doesn't like affiliates. On the other hand, Bing is not that strict about affiliates and their doings – yet. So, while it is still possible, people are taking advantage of that and are banking hard, and I will show you in a minute just how they are doing it and how you can do the exact same thing. You can start making money instantly if you do it right – no jokes, no bullshit – but I want you to keep calm and go through this Bing ads tutorial first before taking any further action.
What You'll Learn
Why Bing is better than Google – we are talking in terms of affiliate marketing.
How marketers are making easy money from Bing PPC Ads – and how you will do the exact same thing, but even better.
How to choose a good product from ClickBank – a product which will actually sell and make you some money.
How to setup your Bing PPC Ads – target keywords, ad title, ad subtitle, negative keywords, etc, must all be perfect.
How to optimize your Bing PPC Ads – increasing quality score, CTR, and removing ineffective keywords is of vital importance to the success of your campaign.
Bing Vs Google
Now, I will not go into the entirety of this battle of the search engines, but instead, I'm going to talk only in terms of affiliate marketing. You see, Google doesn't like affiliates at all. So if you are an affiliate marketer, you probably already know that Google Ads will do nothing for you in terms of traffic.
However, that's not the case with Bing. Microsoft's search engines is much more affiliate friendly and even allows you to place affiliate links directly in your ads. Yes, that's right. You can simply get your promotion URL from ClickBank or whatever, and then you can create a Bing PPC ad using that affiliate link as target URL.
When people click on your ad in the search results, it will take them straight to the sales page of the product. If you have chosen a decent product with an outstanding copy, you will most probably start getting commissions right away. See how simple it is? And you have done nothing more than create a simple Bing Ad. That's it.
But let's start at the beginning.
Examples of Marketers Making Easy Money From Bing Ads
Now I will show you what affiliate marketers are doing with Bing PPC ads. Basically, there are two "types" of pages marketers are driving traffic towards:
The sales page of some product – this is the simpler and faster approach since it doesn't require you to setup a website of your own.
A squeeze page – this is basically a page designed to capture a visitor's email in exchange for something you offer for free – PLR content, a free e-book which you wrote, free access to some useful tool, etc. A marketer can later promote numerous affiliate offers to said list of emails and make a lot more cash. This method requires much more work and effort, but pays a lot more since, if you do it the right way, you will basically create a machine which will generate money for you on autopilot.
Bing Ads Promoting an Affiliate Link
Let's do this together. Open up Bing and search for "paleo diet food list":


Alright. So I scrolled a bit down to show you the sidebar ads. As you can see, they barely stand out from the organic links which means that people will click on them a lot. Bing also shows ads above the organic search results, but they didn't have what I was looking for.
Anyway, if you click the ad which I marked from the image above, you will be directed towards the "The 30 Day Guide to the Paleo Diet Meal Plan" sales page. This is what you will see if you scroll down to the bottom:

There you go. This is quite simply a product from ClickBank and this marketer is pointing their Bing PPC ad directly towards their affiliate link. If we go on ClickBank itself, we can easily find this product to verify this "theory":

Guess what page I will be redirected to if I click on the title of the marked product? Yes, that's right. The same one as the Bing PPC ad redirected me to. Now, this product is not the best ("Gravity" is just 4.69), but it has made some recent sales as we see (you will learn more about the "Gravity" stat soon enough). You'd usually want to pick products with Gravity of around 20 or more, but more on that later.
So this was an example of the first "type" of page marketers are redirecting visitors towards. Just a simple affiliate link taken from a ClickBank product. You see how easy it is? All this marketer has done is choose a product to promote, get its affiliate link, and setup a Bing PPC ad to promote that link. There you go. Money. You're making money out of thin air.
Bing Ads Promoting a Squeeze Page
Now let's reverse engineer the second type of link being promoted by a Bing pay-per-click ad – a squeeze page. Again, search for "paleo diet food list" in Bing and click on the following result from the ads section:

If you click on this ad you will be redirected to the following squeeze page:

See this big and beautiful "Get My Free Guides" button? Well, when you click it, a form will appear which will request your email address in exchange for these free guides. And later on, this marketer can send any affiliate link to the emails he has captured in his list and make some money.
Compared to the Bing PPC ad promoting an affiliate link directly, this approach is much more long-term and can make you a lot more money, but it needs more work on your part. I have shown you both ways, so my conscious is clear. Now it is up to you to choose your path.
Making Money from Bing Ads and Affiliate Marketing
Because the complete setup of a squeeze page is a long, long process (check out our quantum copywriting guide), I will show you how you can do the first approach – with the direct promotion of your affiliate link. I will show you how you will pick a winning product from ClickBank and how you will create an eye-catching ad which will promote this CB product and make you some money. Here we go.
Choosing a Great Product from ClickBank
I like the paleo diet, so this will be my niche. Now, let's find me an awesome product to promote. First thing you'll need to do is register an account with ClickBank (if you don't have one already), and then perform a search for the keyword "paleo diet" to see what comes up: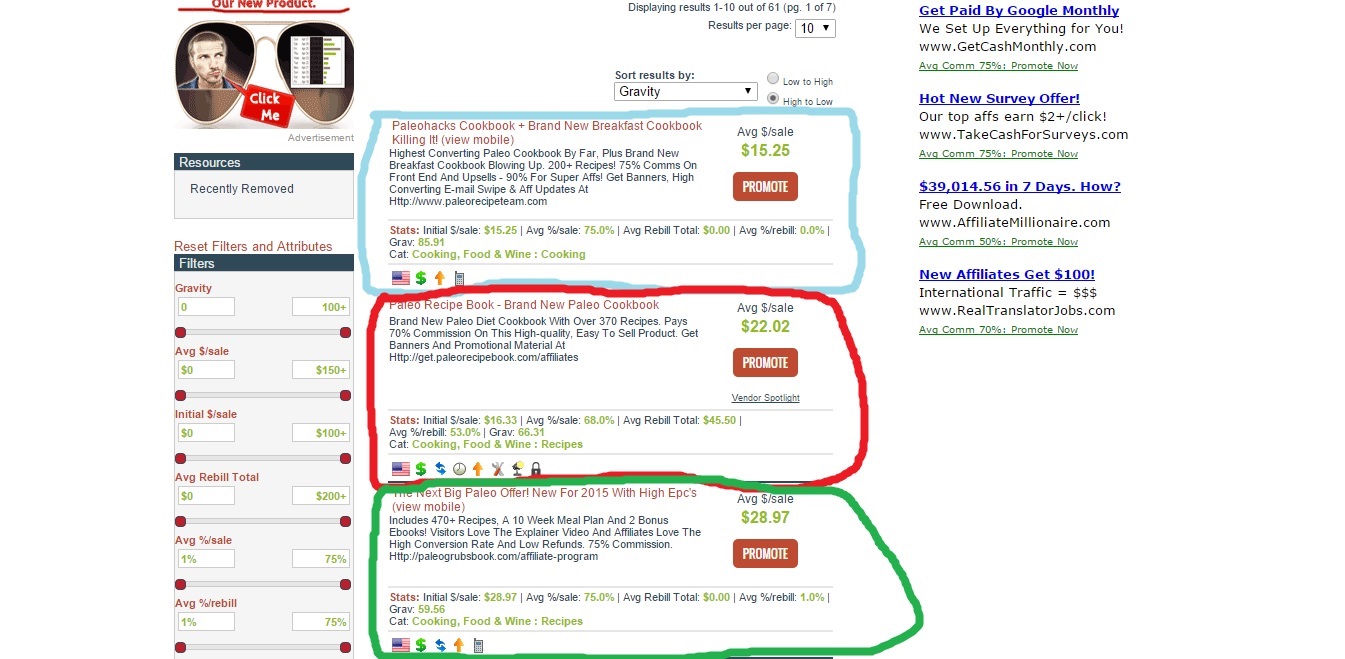 First of all, I want you to note that I have sorted out the results by "Gravity". I will say this in a simple and easy to understand way – the higher the "Gravity" of a product is, the more it has been selling recently. Please notice the word recently. Generally, you'd want the product you will be promoting to have a "Gravity" of 30 or more. Let's just leave it at that for now.
ClickBank Product Stats Meaning
Okay. So far so good. I like the top 3 results from our little search for "paleo diet" products. The next thing I want to do is look at all of the products' stats:
Initial $/sale – the amount of money you will make when someone you refer buys the product. You are not going to easily get rich off of $2 commissions.
Avg %/sale – the commission you get. You want this to be in the 70% range.
Avg Rebill Total – the amount of money you get from the recurring bill. Some products have a monthly, bi-monthly, quarterly, yearly, etc, bill if the user wants to continue using the product or get updates or whatever, and this is the amount of money you get from said rebill.
Avg %/rebill – the commission you get from the rebill.
Gravity – check out this article for full detailed info on ClickBank's "Gravity" statistic.
The Contents of a Stunning Sales Page
All of the three products look good in all of these stats. So what will be the tie breaker? The sales page of course. Quite simply click on each of these products' titles and look at the page you get redirected to. Here's what you want to see on each page:
A stunning copy – even though you are aware that you will not be buying this product, you'd still want to end up getting interested in it after reading the sales page. Yes, read the whole page from top to bottom – don't just scan.
A lot of niche relevant keywords – you want to see a lot of keywords related to your niche which will help improve Bing Ads "quality score" – if you don't know what that is, divert your attention here.
Nice graphics – for example, if the landing page is going to be selling a book product, you'd want to see some nice graphics of the digital cover of the book or maybe even some video. People love a visual representation – remember that.
Value – now, you most probably won't read the paleo book yourself, but you still want to get an idea of what is being offered. If it sounds good to you, then go with it. Oh, and this is why I always recommend picking a niche you care about and have done some research on, because otherwise, you cannot easily calculate the value of a product.
Finally Choosing a ClickBank Product to Promote
Do not spare time on this part. You want to pick the best possible one. For our small example here I will pick the third product (in the green boundary), because its gravity is at a sweet spot (keep in mind that a very high gravity means higher competition and that's not good for someone without a budget) and I really like the sales page, especially the video.
Also, I like the fact that they are using the year angle, which is something that people like a lot. People want to know that a certain product is new and is working for the current year, not for the year before. The copy is really good as well and uses the buy now get free bonuses strategy which I like a lot. There is also a double no questions asked money back guarantee which is of vital importance. The simple words creating the money back guarantee can skyrocket the conversion rates and plus, you know, there aren't many books that offer money back guarantees so that's exclusiveness right there.
I also like the fact that the sales page is not overpopulated with text. I mean content is a must, but some product creators go way too hardcore with that. This is just spot on for me. Straight to the point with the most important niche keywords included, so I can really see that this product's creator knows what they are doing.
The final thing which sold it for me was the fact that it got me interested. I know what the paleo diet is and I am actually on it very often to cleanse my body of the bullshit foods we eat nowadays, so I know what this product is and I like it. Also, I'm pretty sure that if you contact a product's creator and explain them that you will be promoting their product, they would be inclined to give you a review copy. But that's a whole other topic.
In the end, we have our product – The Paleo Grubs Book. Actually, I just refreshed the marketplace on ClickBank and the "Gravity" of the product has gone up about 3 points which means that people have made some money from it just as I am writing this Bing PPC ads tutorial. Take it easy and control your emotions.
Setting Up Your Bing PPC Ad
Okay then. We have chosen an amazing product to sell and we have gotten our affiliate link from ClickBank. Now it's time to create the Bing ad to promote said link. First of all you will need a Bing ads account, so go ahead and create yours. Now, before we setup the ad itself, I want you to create a brand new empty text file, name it "bing ad paleo diet keywords.txt" and prepare yourself for…
Keyword Research for Bing PPC Ads
I probably say this in every article I write, but I will say it again – think of keywords research as the stem cell from your your future success depends on. If you create a weak cell, you will most probably never get to the top of the mountain, but if you get this one right, you will make it rain for sure.
Now, performing keywords research for Bing ads is a bit different from performing keywords research for, say, a website using SEMrush or KeySearch (our tutorial and review) and there are a lot of ways to do it. I will not go through each of them logically, but I will tell you how we do it, which is what I think is the best way. Here we go.
Setting Up Profitable Bing Ads
It has finally come to this. Open up your Bing Ads account and create a new ad campaign. Before you go any further, I want you to do something with the "bing ad paleo diet keywords.txt" file. I want you to open it up and enclose each keyword in square brackets i.e. "[" and "]", so the end file would look like this:
Why? Because that way we are telling Bing that we want our ad to show up only to people who searched for these exact keywords and not any of their partial matches or whatever. Alright? Very important stuff here. Anyway, a Bing campaign has 3 main sections, so I will configure each one of them and show you my results and pointers.
The Campaign Settings Section
Now move back to your new campaign and check out how I filled out the "Campaign settings" section:

Things I want to point out:
Campaign name – always use some sort of a convention for your ad campaign names otherwise, you will get to a point where chaos overtakes your Bing Ads account and you don't want that. For instance, we are promoting the ClickBank product "Paleo Grubs Book" and this is why I gave this ad campaign this name.
Campaign budget – this is where you personalize your ad. I don't know what your budget is and you are going to have to do some math here in order to come up with a good and fair number. Keep in mind that the first few days of the campaign will be used to test out keywords and optimize the campaign as a whole so don't go crazy with the initial budget. Once you have only gold nuggets left as keywords, you can go crazy with the daily budget. As for the daily budget options, I would always select "Standard" because I enjoy the nature of drip feed.
Locations – as I said earlier, you want laser-targeted traffic, so only target countries you are actually interested in.
Advanced location options – again, same principle as in the one above. We want laser-targeted traffic, so our ads are to be shown only to our target locations.
Alright. The general settings of our Bing PPC ad have been setup, so it's time to do some copywriting.
The Create An Ad Section

First of all, always use a "Text ad". As for the content of the ad, you are pretty limited when it comes to characters, but you can still come up with enough engaging words. I just wrote these in a few seconds after looking at the sales page of the "Paleo Grubs Book" again. Don't worry, this doesn't have to be the final or only version of your ad, but more on that in a minute.
As I mentioned in the beginning, most of the Bing ads I have seen have really bad ad content, so if you come up with something creative and eye-catching, you will get much higher CTR and overall ad performance. This applies to both the "Ad title" and the "Ad text".
The "Display URL" is not the actual link which you are promoting, but just the words that represent it. Think of this as an anchor text if you will. Also, notice how it shows up beside the "Ad title" right after the "|" separator. So instead of a link, you can write the name of the book itself i.e. "Paleo Grubs Book" or "PaleoGrubsBook.com".
And finally, we have the "Destination URL" which in our case, is quite simply the affiliate link from ClickBank.
The Choose Your Keywords Section
In the end, the only thing left to do is to add our target keywords:

You quite simply paste the contents of the "bing ad paleo diet keywords.txt" file into the field on the left and then you click the "Add" button. As you can see, all the keywords are added to the table on the right with the "Type" being set to "Exact" thanks to the square brackets we added earlier.
Before you go on and click "Save", you want to take one last look at your keywords which now have CPC stats showing up. Look through all of them and go by your intuition, experience, and budget. If you see some keyword which is too long-tail, but still costs close to a $1 per click, you'd most probably want to remove it.
Perform one final review of your Bing ad and when you are certain everything is perfect, click the "Save" button. You probably think you are done at this point, but you are wrong. There's just a little before we finish with the setup of the Bing ad. Once you click the "Save" button you will see the following screen:

The first thing you want to tweak here is the "Search network bid" setting. This is the maximum amount of money you are inclined to pay for a click. Start low, because as I told you, you want to test these keywords out at first and then optimize your ad campaign. I think 3 clicks for a dollar is fair enough. Just do some math.
The product we chose from ClickBank gives us, on average, $29 per sale. Let's round it up to $30 to make an easier estimation. Now, we pay around $0.33 per click which means that we will be getting around 90 clicks for $30. So, if the sales page of the "Paleo Grubs Book" converts at just 1%, we will break even. If it goes higher, as it should, at say 5%, we will be getting around 500% ROI. Not too shabby huh?
The "Ad distribution" setting allows you to target certain search engines. I select the option you see from the image above, but you can tweak as you like. Then you have a few more self-explanatory options and the "Ad rotation" setting at the end. This one will be helpful to us in the next section where we will be split testing our Bing ad. So, leave it as it is for now and click the "Save" button.
Congratulations! Your Bing PPC ad is finally alive. If you have done a good job through all the steps I took your through, you will start seeing sales soon enough. But, our little Bing adventure is not over yet. We still have one more thing to take care of – ad optimization.
Optimizing Your Bing Ad
First of all, split testing. If you have the budget, you always want to be split testing your ad content. Change up the ad title, the ad text, the display URL to find the best possible combination.
Split Testing Bing Ads
After you have created your Bing ad, you can simply go to your campaign i.e. "Paleo Grubs Book – ClickBank", then go to the default Ad Group (one is created for you automatically), and then click on the "Ads" tab:

Okay. Here is the ad we created a minute ago. Now, you can simply click on the "Create ad" button and create a brand new ad with different content. After that, you want to click on the "Ad Groups" tab, then click on the title of the default "Ad group #1", and then click on the "Settings" tab:

Look at the bottom for the "Ad rotation" setting and select the "Rotate ads more evenly" option. You want to give both ads a fighting chance and then decide which one is the best. After some time (decide intuitively), you will check the stats for both Bing ads, and pause or delete the one that is inferior, leaving you with the better ad. Again, if you have the budget, you keep on doing that until your CTR becomes godlike.
Negative Keywords
Now, if you have done your keywords research they way I showed you, you will most probably never need to deal with negative keywords. However, if you just went to the AdWords Keyword Planner and added all of the keyword ideas from there and did the same thing for Bing's Research Keywords tool and for iSpionage, you will need to exercise some negative keywords skills.
For instance, a lot of the keywords I saw as ideas from all these tools contained the phrase "free" which is something we do not want. After all, we are selling a product, not giving something for free. So, the whole idea of negative keywords is exactly that – to not show your ads to people whose search term includes the negative keywords:

So from the picture above, you can see that I have added the phrase "free" as our negative keyword meaning that this ad will not be shown to people whose search terms include the word "free". And that's pretty much everything there is to negative keywords.
Optimizing Your Bing Ad Keywords
After few days pass by and your ad campaign starts gathering some statistics, you will want to go and check them out. Go to your ad campaign, select your ad group, and go to the "Keywords" tab. Now when it comes to Bing, there are 3 main columns you want to look out for:
By default, you will not see the quality score column, but you can easily add it via the "Modify columns" option. I think it's pretty clear why CTR must be high for your keywords. Now, when it comes to the bid, Bing automatically adjusts a default value for all of your keywords, but keep in mind that you can still manually set your own bids for each of the keywords and your ads still might show up at the top of first page.
In order for this to happen, you must have a pretty nice quality score for that keyword. This will basically tell Bing that your ad is great and is extremely relevant to people's searches. This is where this laser-targeting I have been talking about comes in handy. You don't want people to search for the word "fitness" and have your ad show up. You want laser-targeted traffic.
Anyway, you just go through all of your keywords and look at the stats. Just look at them and do some math in your mind. If you think that a certain keyword is costing you too much money, or has too low CTR, or the quality score is just not good enough, simply pause or delete it. Perform this process over and over again and your Bing ad will start performing better and better.
With that said, we put an end to the Bing ads optimization section. Just keep in mind that you will be performing this process for as long as your ads are running – that is, if you want them to have an extremely good ROI. Your choice.
Summary
So you see, Bing is the land of opportunity right now, but many people are neglecting it, because they are just too used to old strategies. Google has become a habit in people's minds and most cannot see at the rest of the digital world.
Bottom line is, you should now have a pretty good idea of how you can quickly start making money from Bing pay-per-click ads and affiliate marketing. You saw that it's not that hard and that anyone can do it. Just remember that the more time and effort you invest into this money making strategy, the better the results will be.
https://www.inetsolutions.org/wp-content/uploads/2015/08/Bing-Ads-PPC-Affiliate-Marketing-and-Instant-Money.png
449
836
Sterling King
https://www.inetsolutions.org/wp-content/uploads/2015/07/Inet-Solutions-Symbol-Plain18-80x80.png
Sterling King
2015-08-25 09:38:20
2019-12-08 11:52:53
Bing PPC Ads + Affiliate Marketing = Instant Cash Flow!