Appreciation and gratitude are the keys to a lasting relationship.
While customer acquisition is vital to keep business up and running, customer retention is also an imperative part of the process. More than 90% of the consumers intend to purchase again from the brands with excellent customer service. On the other side, 80% of the businesses rely on email marketing to maintain the customer retention rate.
Learn the best practices for increasing returning customer rates with retention email marketing.
Profit is not the only measure to rate a business' success because a loyal customer base is also a considerable goodwill factor.
So, if you are utilizing email marketing just to send promotional emails or cart abandonment emails, you are sidelining yet another hype-engaging email automation series, i.e. appreciation or thank you emails.
Today, we are going to talk about various ways (with business email template examples) to design customer appreciation emails. Let's dig in…
1. Thank them for the association
The concept of hot leads and cold leads plays a major role when it comes to email conversions. People who sign up for your newsletters or product updates are more likely to be interested in knowing your brand better. These prospects are hot leads and should not, at any cost be neglected! Appreciation should not be purchase-centric but rather should be utilized to nurture leads. Thanking and welcoming a member is a way to appreciate their presence in your circle, and you should not miss a chance to send such emails because welcome emails see 3 times higher transactions and revenue per email over other promotional emails – WordStream.
Example
Here's a welcome email by Apple Arcade. This simple email contains 2 CTAs and a brief about what the user can explore. A 'thank you' message to acknowledge the onboarding provides a sense of belonging to the arcade culture. Such small gestures can go a long way!

2. Mark the special days and make them more special
Another proven way to appreciate your customers is by setting up email automation that focuses on special day email campaigns. With the help of the segmentation, you can automate email with special offers and greetings to be sent on specific days. Birthdays, anniversaries, and festive emails are common yet useful. These emails carry a personal touch without losing the much helpful scalability factor for your brand.
These occasional emails are great to keep your brand top-of-mind when the users are likely to be in the mood of a celebration. You can also incentivize these appreciation emails with some exclusive discounts or limited-time offers.
Examples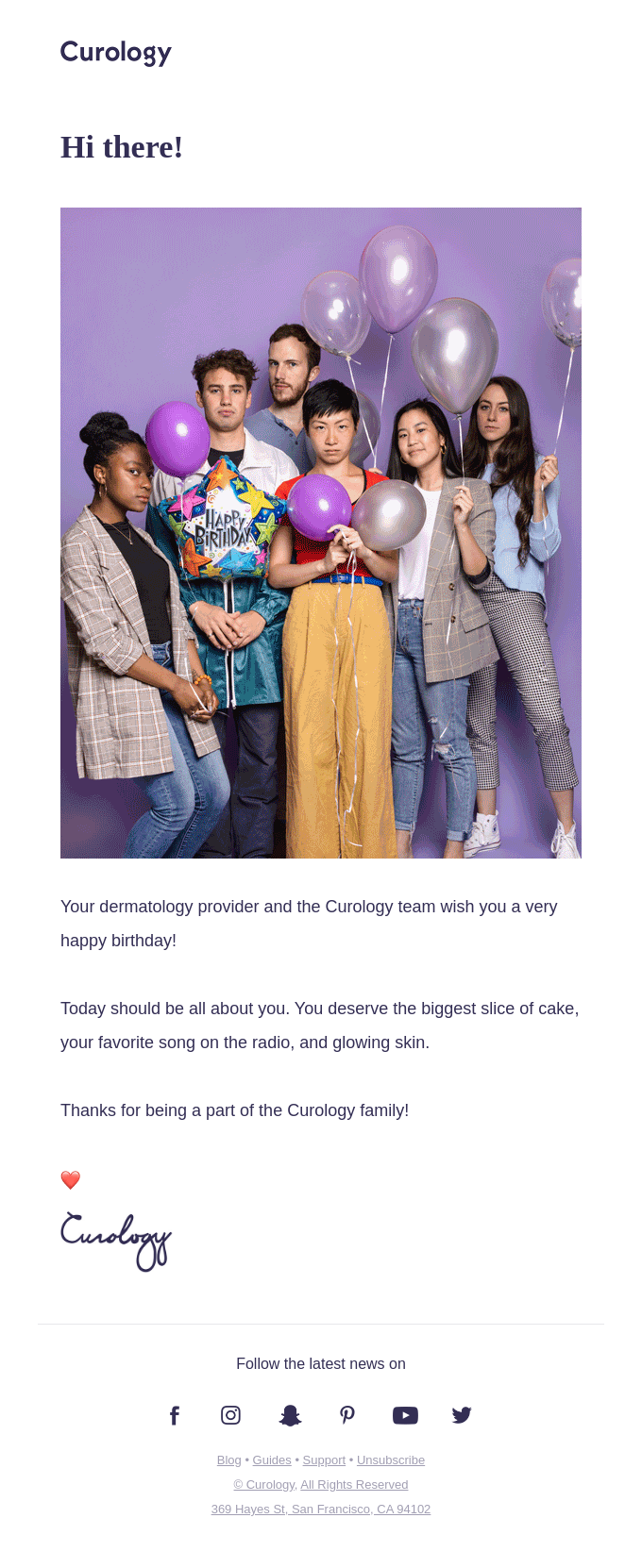 In the above-mentioned email template designs a common appealing factor is the use of GIF. Nike and Curology both send birthday greetings to their respective customers in different ways. Nike offers a month-long discount code whereas Curology sends in a simplistic birthday wish.
Whatever way you choose, it is important to make the consumers feel special.
3. Celebrate success together
You exist because they let you – neither forget this nor keep it to yourself! If it hasn't been for your customers, you would not succeed, and never miss a chance to say this to them. Celebrating achievements should not be limited to your employees. You should often send, however smaller milestones you achieve with your customer base. Thank them for being there and showing trust in your brand. It is a great way to keep them posted about what's happening and how they're making a difference.
Examples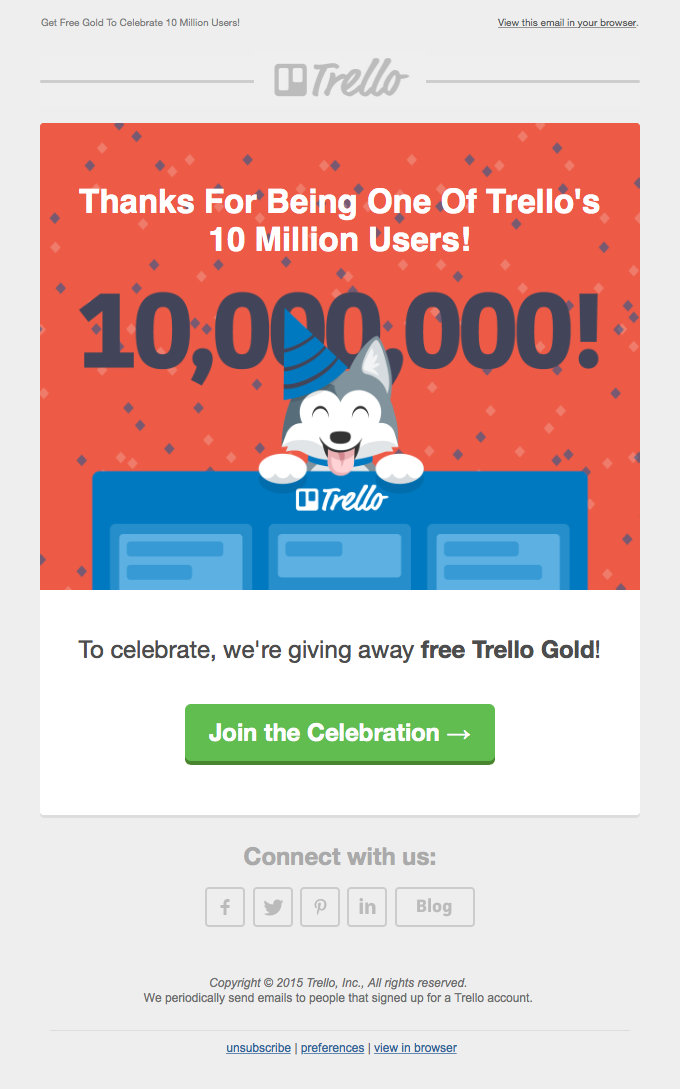 These two email designs are similar yet different. Both emails talk about their achievement in a very distinct manner. Trello simply thanked its customers for reaching 10 million users while Bulb followed a creative approach! The email contains statistics and impact by numbers. Apart from the email template, the copy also creates a buzz.
4. Personalize their journey
Small things matter when you pay attention, and that's the key to email personalization! When a customer is associated with you for a significant time, you can embrace the journey by giving them specifics. It doesn't take much effort with the help of advanced email marketing tools but creates a huge deal of impact. Personalization generates 6x higher revenue and transaction rate and an effective way of appreciation.
Examples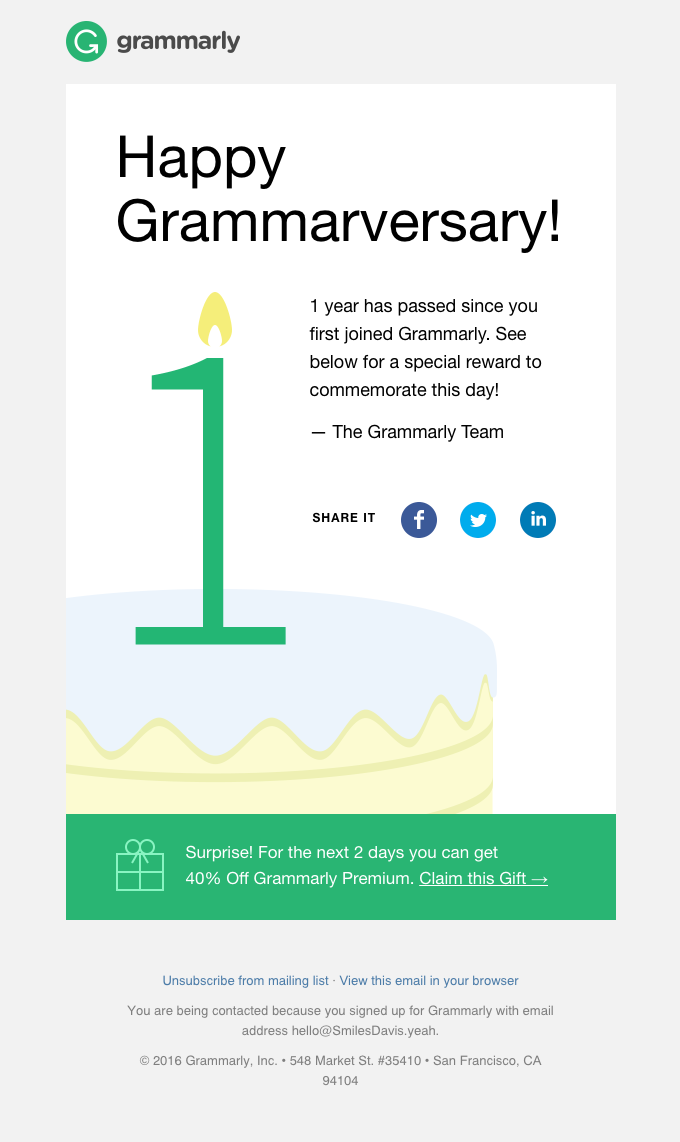 This email by Grammarly is a 1st-year anniversary greeting. Celebrating association is a great way to let your consumers know that you care. Thanking subscribers at the time of joining or sign-up is a conventional method. Set up an automation that is hyper-targeted and subscriber-centric. Another thing to take account of from this email is the availability of the quick sharing of social media links. It is a great way to get an audience from your user's social profiles if they share.


Here's a yearly round-up appreciation email by Play Station. The notable points are its portrayal of consumer-specific yearly stats. To make it more convincing and engaging, the email ends with a sweet gesture of freebies. Claim rewards and view stat CTAs are smartly placed to increase clicks, and ultimately overall email engagement. This is yet another way to be thankful to your customers.


This email by Uber is a monthly activity reminder post that contains the exact number of trips taken, thumbs up received, number of deliveries, and a lot more personalized factors. Such emails are not designed for conversions or sales, but rather, gestures like these customize user experience and help to nurture consumer loyalty.
The email templates by Grammarly, PlayStation, and Uber are customer appreciation messages they send across. Just like them, you can segment to send yearly review emails, monthly activity emails, or simple anniversary greetings as per your brand persona.
5. That 'Exclusive' feeling
Time and again, you need to make your consumers feel that they're special and you treat them each like exclusives. This can be done by sending 'members-only' emails or 'exclusive early previews', special codes, and more. You need to make sure they don't feel ordinary! Check out how Coast is doing it right with email and app-exclusive offers.
Example


6. Wish them well on occasions
Though holiday greetings and special day wishes are abundant, they're impactful! You can mark your calendar with special days and design email campaigns around them throughout the year. Days like Small Business Saturday, 4th of July, Holidays, and many more are chances for you to bond. Check out Birchbox'semail for the customer appreciation day.


7. Thank people to be a part of your events
Events, webinars, summits, and conferences are great for socializing and increasing reach. But the collected leads and interested guests should be acknowledged properly once the event is over. It helps them recognize your brand and connect with you better. Just like a product feedback email after a purchase or a service rating email after a dine-in, you can send in post-event emails to keep your attendees engaged with your content. Here's an example by Design+Ethics with photos of a conducted event, thanking the attendees with a unique approach to get them all on its social media profile via photo tags.


Pro-tips to master appreciation email campaigns
Incorporating personalization is the cornerstone of appreciation email campaigns. Be it a birthday email, VIP invites, yearly/weekly/monthly activity status update, or a simple festive greeting, you need a properly segmented email list to carry out such campaigns.
Email template designs play an important part too. When dynamic content is available at your disposal, a clutter-free, to-the-point template goes a long way.
As we have mentioned time and again, appreciation emails are not sent to close leads. These are the emails that strengthen bonds. Make sure that the content is not salesy. Such emails should go with a sense of belonging to cherish the connection.
Following a marketing calendar with all the important days marked can help you design appreciation campaigns around them. (Just like the Customer Appreciation Day email by Birchbox)
Email automation and email personalization are two of the most important elements for such campaigns. To get an edge, choose your email service provider (ESP) wisely. Conduct thorough research on the kind of advanced personalization features the ESP can offer. It is important to pick an ESP that is feature-rich and future-proof in accordance with your long term business growth.
Wrap Up
Saying 'thank you' and showing 'you matter' are the best ways to retain customer loyalty. And in a world where emails are a preferred medium to exchange business communication, appreciation messages surely woo the consumers away.
Appreciation emails are crucial but what's more vital is how you conceptualize and design email templates from PSD to Email HTML for such campaigns. Responsive, eye-pleasing, and email client tested email design is the need of the hour. Your campaign success depends on how well your templates can engage the audience.
Hope this list of ours will help you appreciate your customers better!
https://www.inetsolutions.org/wp-content/uploads/2020/07/email-marketing.jpg
970
1848
Kevin George
https://www.inetsolutions.org/wp-content/uploads/2015/07/Inet-Solutions-Symbol-Plain18-80x80.png
Kevin George
2020-07-26 18:53:24
2021-10-18 10:26:40
How To Use Email Marketing To Appreciate Your Customers