Last year has been extremely tough for businesses. According to a September report by Yelp, nearly 100,000 companies had to shut down due to the quarantine, strict measures, and financial losses. Those who managed to withstand the challenges are looking forward to a new year full of opportunities.
In these tough months, businesses had technology to help them adapt to the new conditions. Many things remain technology-based even today – things like online orders and mobile payments. The latter's value is estimated to reach over $161 billion – and soon.
What does this tell you? It tells you that, in 2021, you need to come to grips with the changes and learn how to leverage technology to help your business not only survive, but grow. Without any further ado, I'm presenting you with 5 amazing tools that every business should use for smoother operations, business insurance, outsource data entry, and a more prospective future.\
Quick mention: One very useful tool is Vyapar billing software.
1. Best report making software: Piktochart.com
Piktochart.com is an exceptional and versatile report maker that allows users to quickly turn data-heavy or text content into an attractive visual story. It allows you to create professional-looking, more engaging content in different formats. Most importantly, it's very simple to use, so you need no experience to get started.
Visual content such as infographics and presentations is amazing for engaging your audience. According to LinkedIn, 70% of customers report that visual content allows them to better connect to a brand. Thanks to Piktochart, you don't need to spend hours creating the next visual content piece to post on social media or your website. This tool has numerous ready templates designed by experts. In just a couple of minutes, you can have a perfectly designed report, infographic, presentation, social media graphic, or even a poster.
Data visualization is not only useful for attracting customers, but also for analyzing your business' progress. With tables, charts, and graphs, marketers can keep track of the things that affect their success rates, as well as any trends they need to follow. These are extremely useful for meetings where you have to share the progress and goals with partners, employees, and potential investors.
To use this tool, you just need to scour their choice of templates and choose your favorite. Next, you'll be given a chance to add many design components, graphics, as well as colors and fonts of your choice. The best feature this tool offers is the upload fonts feature. This way, if your brand already has a signature font, you can use it to create your visual content.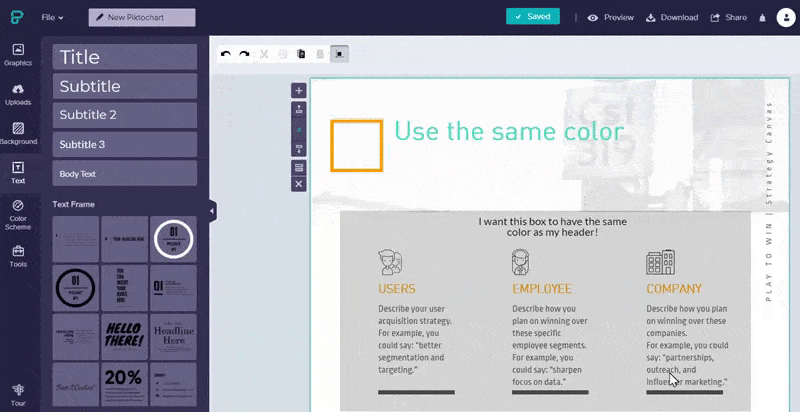 Pricing: Piktochart has three payment plans:
Free – with limited features
Pro plan for individuals at $29 per month
Team plan for companies of all sizes at $99 per month.
2. Best accounting software: Xero.com
Accounting is an important task that all businesses need to take care of. Thanks to software tools like Xero, this is now easier than ever. Xero is an accounting solution that's ideal for small and medium businesses. It's cloud-based and allows companies to monitor their cash flow and financial performance in real-time.
This is a popular tool among accountants, also. They use it to keep accurate balance sheets for all clients, as well as to customize ready financial reports and track specific KPIs.
Xero has an amazing list of features to offer its users. If you use this tool, you can compare your company's performance and its financial management against a selected period. You can also synchronize bank accounts and pay bills on the platform. It's also used to process online payments from providers like GoCardless, Stripe, and credit cards – in several currencies.
Do you have an invoice? You can use Xero both to create and send out your invoices, therefore automating many of the processes and saving you loads of time. It will send payment reminders to your forgetting clients, so you don't have to worry about overdue invoices.
All customers get unlimited, free support.
Pricing: There are three plans to choose from, as well as a free trial for 30 days. The plans' costs are:
Starter plan at $20 per month
Standard plan at $30 per month
Premium plan at $40 per month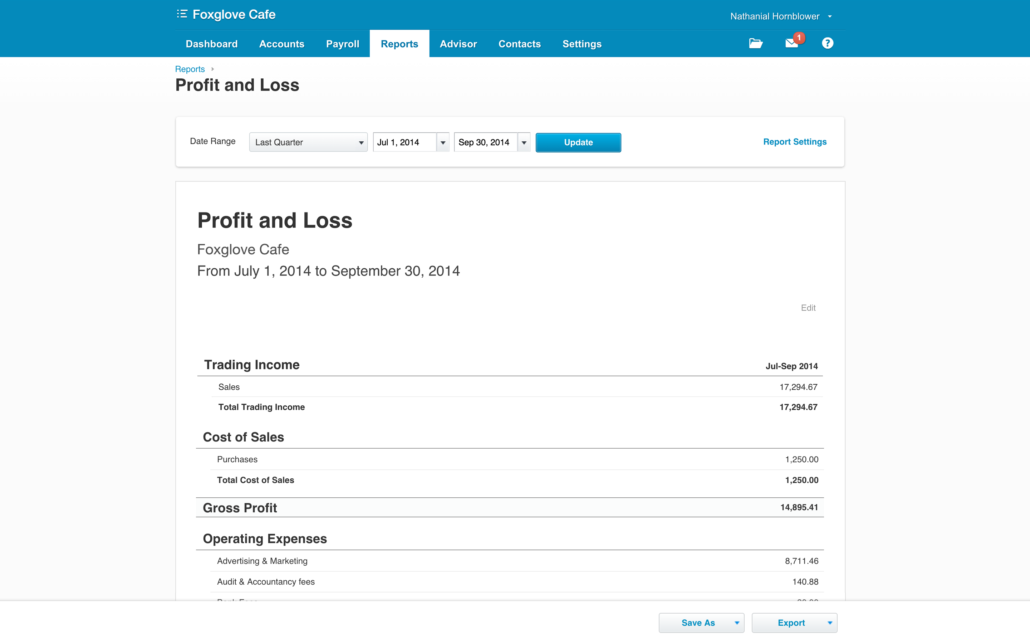 3. Best knowledge base software: Slite.com
A knowledge base software is a place where you store all kinds of information. Nowadays, such tools are located online, which means that businesses store tons of data in clouds. This type of software comes in handy when you need to store, manage, and organize the information and documentation of your business.
Many companies consider this to be the brains of their operations. Using a quality knowledge base software equals reduced mistakes, better overview, clean analytics, and a lot of saved time. It can be used for both internal and external purposes including communications and support with customers.
There are many perks of using software tools like Slite including:
Effective and big storage options
Increase in productivity and easy organization
Simplified employee onboarding
Improved customer experience
When it comes to bases for internal knowledge, Slite is a brilliant choice. This tool helps teams of all sizes work together more efficiently regardless of their location. You can use it to store any kind of documentation and information. Instead of throwing it in folders on your computer, this tool is optimized to offer amazing organization and an increased level of security for your files.
Right now, this tool is used by over 5000 teams on a worldwide level and the numbers are growing every day. Best of all, you can try using it for free before you opt for a paid plan.
Pricing: Here are the options you get with Slite:
Free plan (unlimited members, 100 documents, unlimited integrations, apps)
Standard plan at $6.67 per member per month
Enterprise plan (account manager, openID SSO, custom contract and invoicing, service level agreement, etc.) – price TBD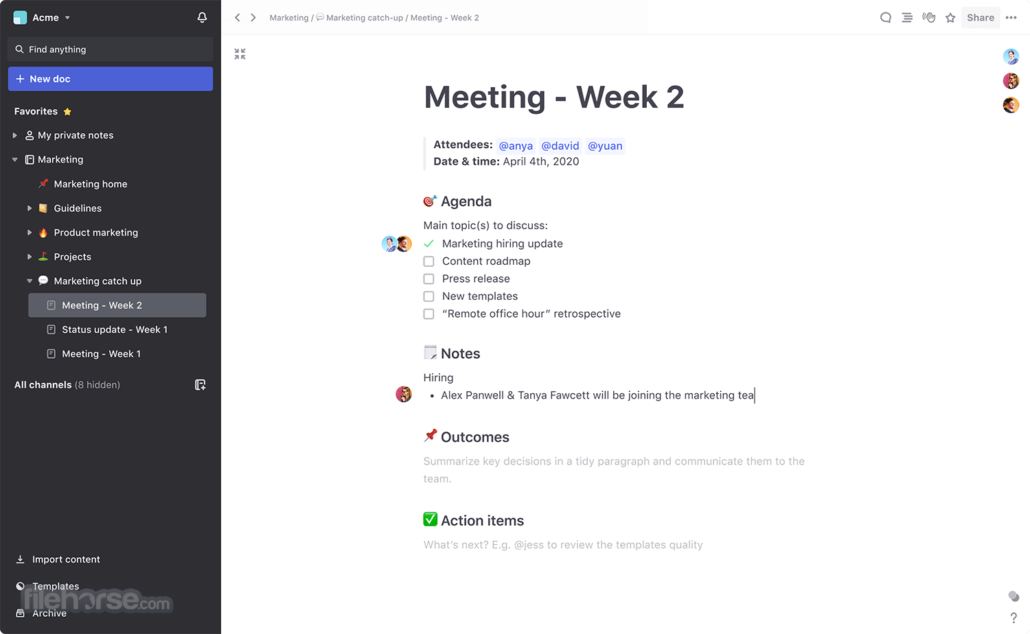 4. Best project management software: Trello.com
Trello is an all-around tool, to say the least. This is both task management and collaboration software, which are two essential tasks of every business. It supports all sorts of projects including content development, marketing campaigns, customer support, data entry, sales tracking, HR tracking, etc. With it, you have most of your business' tasks and activities at your fingertips.
Businesses constantly search for tools that allow them to keep track and organize various things. This is one such tool. It's convenient and easy to use and allows businesses to track projects, users, labels, set priorities, and more. You can also use it to store some documents and share them with your colleagues and team.
Some of the best features of Trello include:
Comprehensive board where you can organize task assignments, calendars, due dates, conversions, and timelines
Productivity metrics
Built-in automation called Butler that allows you to automate common actions, create custom buttons, schedule teammate assignments, and more
Integration options and Power-Ups
If you still feel like you'd like to learn more before you invest in it, know that there's a free plan available, as well as a comprehensive video tour to get you familiar with the software.
Pricing: Trello has three pricing options, one of which is free:
Free for teams and individuals (14-day trial with unlimited functionality)
Business Class plan at $10 per user per month (annually) for teams up to 100
Enterprise plan for teams of 100+ – price TBD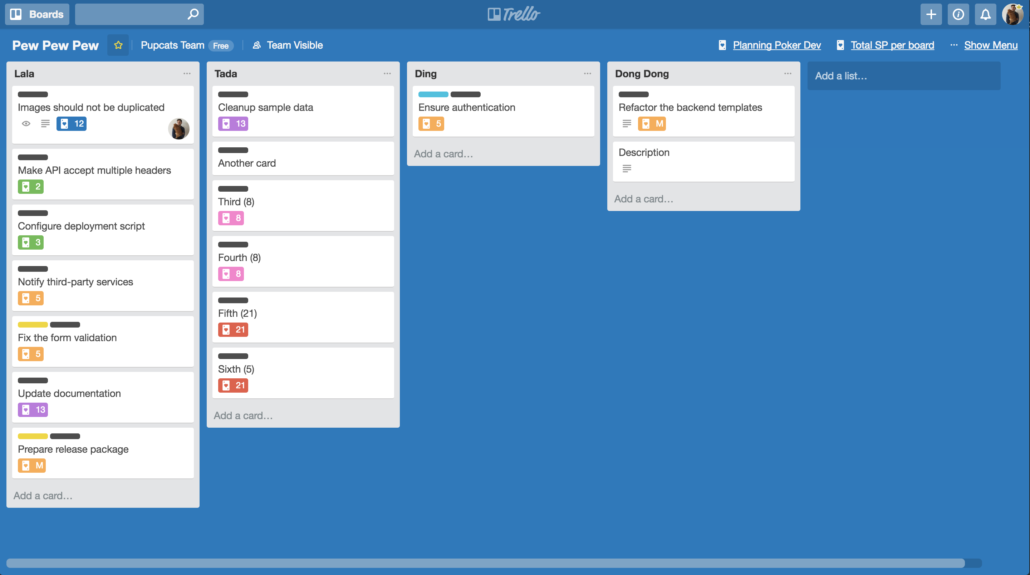 5. Best time tracking software: Timedoctor.com
Time Doctor is a great tool used for many things. Its features will allow you to track time and monitor employees. This is a full-service tracker that can be used for project management and payroll, as well as employee monitoring. Once your team downloads the tool, they can create their own tasks and track their time. As their leader or manager, you can keep track of what they're doing and get insight on details such as keyboard and mouse activity, as well as screenshots at random intervals.
App and website monitoring is a very useful facet of this tool for supervisors and users. Time Doctor allows you to generate quick, accurate reports that will show you how much time a person spends on an app or a website. You can also set up automatic alerts to inform you when a user spends too much time on an app or a site.

In addition to this, TimeDoctor has features for:
Productivity analysis
Payroll and timesheets
Offline time tracking
Project budgeting
Project management
Daily, weekly, and monthly reports
Pricing: Time Doctor has three pricing options:
Basic plan at $7 per month per user
Standard plan at $10 per month per user
Premium plan at $20 per month per user
Bonus: Yooz – Real-Time Purchase to Pay Automation
Accounts payable processes are particularly time-consuming and mind-numbing, but they are absolutely necessary. When you receive an invoice, you need to process the data, enter it in your general ledger or database, get approvals, and then process the payment. This takes time and effort, even though it is a process that can be easily automated.

With Yooz, you can get automated invoice processing that will make sure that your bills get paid and your data is properly updated. There is no risk of human error along the way, and approvals are a snap. With fast, automatic accounts payable processing, you can take advantage of any early payment discounts and avoid late penalties from having an envelope sitting on someone's desk for too long.
One other benefit of automation is the paperless accounts automation process. It will save you money, allow you to be more productive, and you'll never lose an invoice again.
Features:

Automate approval workflows
Completely paperless AP
Mobile access to invoice approval
Same day invoice approval
Supplier participation and enablement

Final thoughts
There are amazing software tools available to businesses nowadays. Your options are virtually unlimited, allowing you to automate many of the tasks and get templates for just about anything. However, some tools stand out the most. The five options in this list are a must-have regardless of your industry or business size.

https://www.inetsolutions.org/wp-content/uploads/2021/03/best-tools-for-freelancers-1-1.png
730
1460
Roger Sterling
https://www.inetsolutions.org/wp-content/uploads/2015/07/Inet-Solutions-Symbol-Plain18-80x80.png
Roger Sterling
2021-03-03 13:11:34
2023-02-27 13:13:23
5 Most Useful Tools for Your Business in 2021