Apps have been making quite an impact in the world of online marketing lately. The leading app stores – Google Play and Apple's App Store – had 3.8 million and 2 million apps, respectively, as of the first quarter of 2018, and these numbers are rising rapidly. The available apps come from all sorts of businesses and offer a wide range of exciting and helpful features, so more and more of them are downloaded every day.
In fact, according to data by Statista, 205 billion apps have been downloaded so far in 2018, and it's predicted that this number will rise to more than 258 billion in 2022.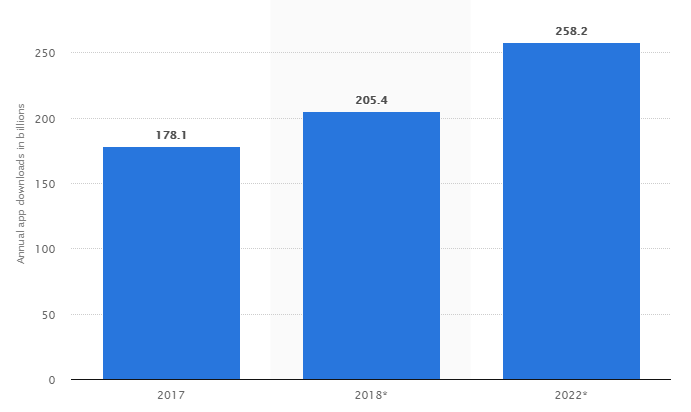 Content consumption on mobile devices such as tablets and smartphones is also increasing rapidly. More and more people are using them to browse the Internet; in fact, mobile web browsing overtook desktop browsing for the first time back in 2016, and has been slowly increasing its share since.
Of course, Google had to take some action to ensure that mobile web surfers have a positive experience. After a year and a half of experimentation and testing, the search giant rolled out mobile-first indexing update in early 2018, thus ensuring that mobile-friendly sites are prioritized in search results.
Clearly, targeting mobile users is something that you have to do to expand your business's online presence. Due to the ever-increasing popularity of apps, not having one means that you're missing out on an excellent opportunity to reach more potential customers.
Let's summarize the key reasons why mobile apps are essential for your mobile content strategy in the next section and then give you effective app marketing strategies.
Why Mobile Apps Are Critical for Your Content Strategy
Reason #1: They Provide a Constant and Seamless Experience
The online competition is getting tougher every day. More and more brands enter the business, and getting your message to your target audience is quite challenging. As the result, it's pretty easy to lose the impact on your customers.
An app could become a protected channel of communication with customers that allows to truly engage them. It creates a branded environment that provides a constant and seamless experience, reducing clutter and noise created by other brands.
Reason #2: They Deliver Personalization
According to recent Epsilon research, 80 percent of consumers are more likely to buy from a brand that offers a personalized experience. An app is a great way to achieve that because they can deliver personalized notifications and offers.
Epsilon also found that apps from a number of industries such as entertainment, automotive, travel, grocery, restaurant, mass merchandise store, financial institutions, and online retailers performed better when they were personalized (see the full data below).

The reason why apps are a good way to deliver a personalized experience because customers turn to them to meet specific needs and receive dedicated services they cannot find on a business's website.
But what kind of information and notifications do customers prefer? To answer that question, we're going to use the results of Localytics push notifications study. Accordingly, people like to use apps that send push notifications based on their preferences.
Here are the complete results:

So, use your app to deliver customized content to your customers and send them personalized preferences to enhance their experience and increase the effectiveness of your mobile content strategy.
Reason #3: They Provide Useful Offline Content
A truly great brand provides a seamless experience regardless of whether a customer's device is connected to the Internet or not. For example, an app could provide users with content and functionality to keep then engaged; if a customer wants to check your menu once again or get some other information about your products and services, they should be able to do it whether they have an active Internet connection or not.
App Marketing Techniques
Just having an app in an app store isn't enough. With all that fierce competition on the app market, marketing your product is a must to stand out from the pack. Take a look at the following app marketing strategies that increase the chance that your app will be noticed by more users.
1. Conduct App Store Optimization (ASO)
With millions of mobile apps available in online stores, getting yours found is one of the biggest problems. APO is the technique that tries to get an app higher in an app store's results so it would be more visible,
According to ASO Stack, 47 percent of App Store users find apps through the search functions, while 53 percent of Google Play user do the same. So, to improve your app's ranking in the search results, feel free to try the following ASO methods:
Include the most relevant keyword(s) or keyword phrase(s) in the title of the app
Write an excellent app description that describes the benefits of the app to users and contains keywords
Ask existing users to give your app a good review
Provide reasonable pricing for premium features.
Using online tools to write and proofread app descriptions is also recommended TrustMyPaper and Hemingway App.
2. Research Target Users
One of the most important rules in marketing is to research before launch. A mobile app is no exception because trying to reach everyone will result in an app for no one. To avoid committing such a mistake, you should always perform a research of the target users of your app.
One good way to research is to create user personas. These are user archetypes that allow to visualize users' preferences and make app design decisions around them.
There are five major advantages of user personas in app development, according to Medium:
Generate more focused results because the development team would be focused on who the target user is
Build a consensus among the development team members regarding important features etc.
Make better decisions regarding the app; for example, what if the app's solution doesn't solve the user's problems at this moment?
Make better apps by aligning your goals and customer requirements
Help with product positioning because it provides information on customers' needs, values, and preferences.
Final Take
If you've built an app, you already have faced the fierce competition from thousands of other developers in your industry or niche. This may be upsetting, but no matter how tough it is, having an app is a must for your business because it's an amazing way to keep your loyal customers engaged and wanting more.
Making sure that as many potential users as possible see the app is also a must. To maximize the chance that it stands out from the pack and gets new users, you have to engage in app marketing and add it to your mobile content strategy. Otherwise it would be quite difficult to get noticed and promote it.
Hopefully this article gave you the information you need to start with app marketing and maximize its effectiveness. Eventually, it'll help you prepare for the future and get some massive benefits!
https://www.inetsolutions.org/wp-content/uploads/2019/05/3-Reasons-Why-You-Need-to-Add-App-Marketing-to-Your-Mobile-Content-Strategy.png
550
870
Roger Sterling
https://www.inetsolutions.org/wp-content/uploads/2015/07/Inet-Solutions-Symbol-Plain18-80x80.png
Roger Sterling
2019-05-02 10:29:52
2023-08-23 17:35:03
3 Reasons Why You Need to Add App Marketing to Your Mobile Content Strategy